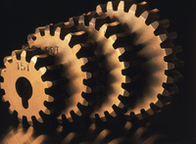 The Joint Automation Committee, made up of the National Association of Surety Bond Producers (NASBP) Automation and Technology Committee and the Surety & Fidelity Association of America's (SFAA) e-Business Advisory Committee, formed the Surety Forms Working Group (SFWG) in 2014 to develop and promote data standards for the surety industry. The goal of the data standards is to increase efficiency and enhance the ability of sureties and agency management systems to develop B2B opportunities for the industry. The SFWG quickly identified two global data standards organizations to help with the process: ACORD and XBRL US.
ACORD, the data standards organization for the insurance industry since the 1970's, was the logical fit for general underwriting information and bond processing data standards. ACORD helped develop the surety industry's first data standards in the 1990's with the Report of Execution. The SFWG worked with them to develop new standards bases on ACORD's eLabel forms technology.
XBRL US is the data standards organization for financial reporting in the U.S., supporting XBRL, the free, open, global data standard. Every public company reporting to the US Securities and Exchange Commission or bank reporting to the Federal Deposit Insurance Corporation must provide their financial statements using the XBRL standard. Given the surety industry's heavy reliance on financial data, they were the perfect partner for the Surety Data Standards initiative.
Working with ACORD and XBRL, the SFWG developed the necessary data standards to quickly and efficiently transmit underwriting and bond processing information between surety bond stakeholders, whether they are the principal, agent or surety. Other partners in the process such as CPAs, banks or other creditors may also benefit from the usage of these standards.
This website is dedicated to the promotion of Surety Data Standards, their adoption and implementation by the surety industry. In order to demonstrate the interest in the standards and desire for the increased efficiency and business opportunities they enable, we've developed the Surety Data Standards Pledge. Stakeholders in the surety industry can see who is supporting the standards and sign on to show theirs. This show of support will help encourage early adopters to implement the use of Surety Data Standards.
For everyone interested in taking the next step, the SFWG developed the Standards Adoption Toolkit, which includes:
Workflow summary
White paper outlining the business case for using the standards
Cost-benefit analyzer
Customizable PowerPoint presentation on the benefits of Surety Data Standards
Links to demonstration videos